Hi, this Ryotaro Takanashi, an M2 of the lab.
こんにちはM2高梨です!
The 2014 Bangkok x Tokyo WS on the regeneration of Tsukiji was completed on Saturday, the 9th of August.
チュラロンコン大学との合同、築地再生ワークショップ8月9日(土)にて終了です!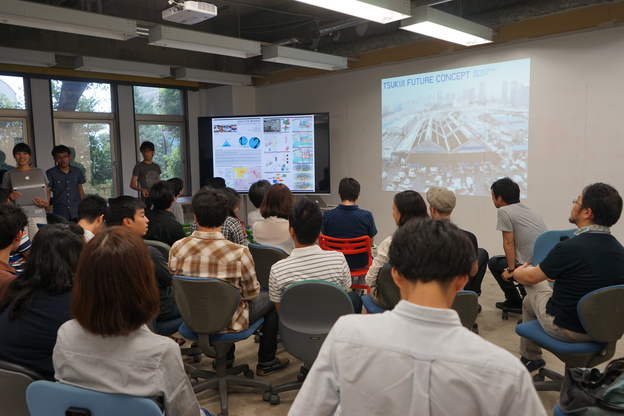 ▲最終発表の様子
This is the 3rd annual UEHAS workshop where the students of Chulalongkorn Uni. (Bangkok) and Tokyo Uni. cooperate to create plans for a certain site. It is the WS I took part in Bangkok last year, but this year, I have become a member of the staff to host it in Tokyo. The 4 international teams proposed 4 different plans on the Tsukiji site after the allocation of the fish market as the output after a 10 day workshop. 
これは三年連続で行われているUEHASのワークショップであり、バンコクのチュロンコン大学と東大が合同で行います。去年は参加者としてバンコクに行った私は今年はスタッフとして東京に迎え入れる仕事をしました。4つの国際チームに分かれて、それぞれ築地市場移転後の計画を10日間で立てました。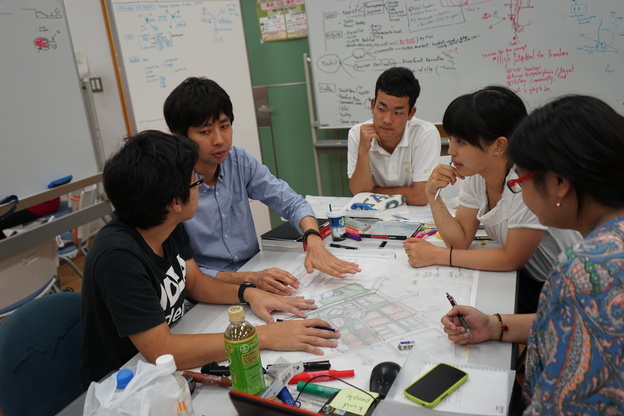 ▲言葉の壁を超えた議論
The plans were:
1. Keeping the original structure of the fish market and turning it into a creative market, utilizing all the surrounding houses and warehouses that used to work with the fish market.
築地魚市場の構造を保全し、クリエイティブ産業の市場を作り、市場に関係していた周辺の家・倉庫も活用していく。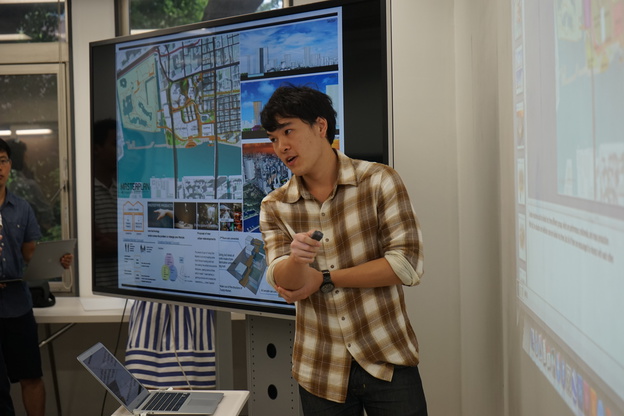 ▲1班発表中
2. Creating an open space that allows as many types wild of activities as possible, including extreme sports, and in turn will be utilized in a totally different way during disaster.
エキストリームスポーツを含め、できるだけ自由に使えるオープンスペースとして確保する。そして災害時にも自由に使えるものとする。
3. Recreating the tidal land and connecting the site to Hamarikyu and Shibarikyu to create the biggest and most accessible park in Tokyo.
干潟を再生し、浜離宮と芝離宮とつなぐことによって東京最大で最もアクセス性の高い公園を作る。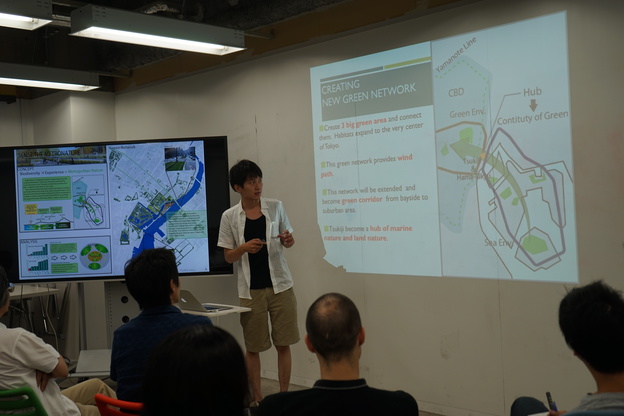 ▲広域的な視点から緑を考える
4. Creating a boat route from Haneda and creating a bus park + pier to make the site a gate and hub to Tokyo for foreign tourists.
羽田からボートでのアクセスを可能とし、バスターミナル+港で観光客にとってのゲート兼ハブとする。
The WS was intensive with many talented students from Thai and very good output. I hope some how that these plans can impact the actual planning of the site.
このWSはとても実りあるもので、タイからのハイスペック学生に負けじと皆頑張り、学ぶことが多かったにではないかと思います。実際にこのような面白いプランが実際の計画に影響を与えられるといいなと思います。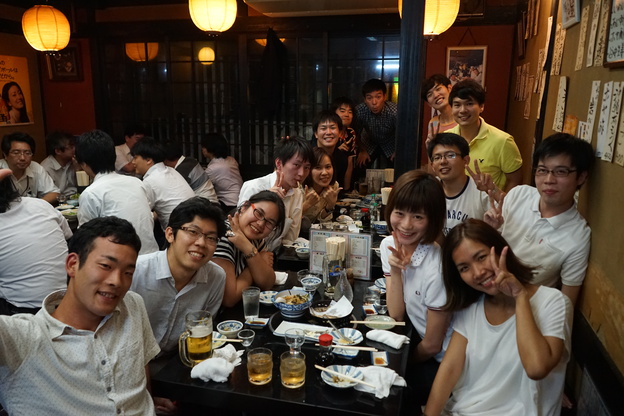 ▲車屋にて
This is not for certain yet, but we may have an opportunity to present the out put to the public.
まだ決定はしていませんが、結果を公表する機会があるかもしれません。
▲集合写真