2023年5月17日(水)に他大学および東大他学部からの修士課程受験生向けの研究室説明会を開催いたします。
都市デザイン研究室を受験予定の方、興味をお持ちの方は、ぜひご参加下さい。

■参加方法 ※要申し込み
以下のフォームに必要事項(お名前・ご所属・メールアドレス)を記載し申し込む 
https://forms.gle/9anV3kTLxMnacJDR9
※5月15日(月)までにお願いいたします。
 
■日時:2023年5月17日(水) 18:00~19:00

■場所:本郷キャンパス工学部14号館222教室/オンライン(zoom)のハイブリッド開催  

■お問い合わせ 
ご不明点等ございましたら、以下のメールアドレスまでご連絡ください。
info[at]ud.t.u-tokyo.ac.jp
 ※[at]を@に置き換えて下さい。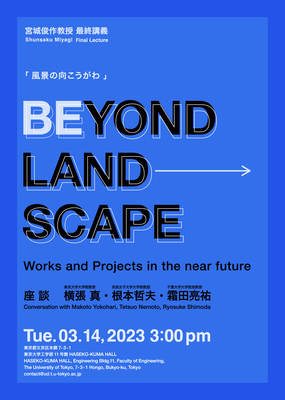 Professor Shunsaku MIYAGI, Department of Urban Engineering, The University of Tokyo, will retire on the last day of March, 2023.
We'll have the final lecture by Professor MIYAGI as follows:

Title of the Lecture : "Beyond Landscape -Works and Projects in the near future-"
Time & Date & Time : Tuesday, March 14, 2023 15:00-
Location: Haseko-Kuma Hall, Engineering Building 11, the University of Tokyo.

Due to limited seating, only invited guests can participate. For questions, please email <contact[at]ud.t.u-tokyo.ac.jp>.