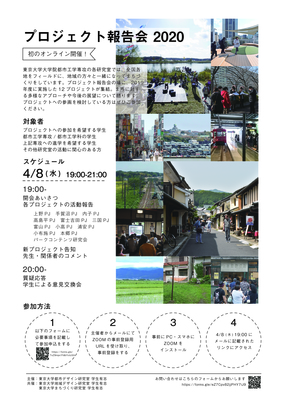 2019 Project Report Meeting
In the Department of Urban Engineering, University of Tokyo, we work in fields across the country and cooperate with the residents to accomplish goals in urban and community design. This year, 12 projects are going to gather at the project report meeting. We will discuss various approaches towards the community and our prospects. If you are considering participating in the project, please join us!
This is our first online event. Please read carefully on how to participate and contact us from the inquiry form if you have any questions.
■Welcoming 
Students wishing to participate in the project・Students wishing to enter or belongs to the Department of Urban Engineering, University of Tokyo 
■Date and Time
April 8th, 2020(Wed)19:00〜21:00 
■Format of Meeting
Online Meeting via ZOOM
■Program Schedule
19:00- 1st Section
Opening
Project Report
(Ueno→Teganuma→Uchiko→Takashimadaira→Fujiyoshida→Mikuni→Toyama→Odaka→Urayasu→Obuse→Hongo→Park Contents Research Unit)
New Project Announcement
Comments by Teachers
20:00- 2nd Section
Question and Comments
Exchange of Views Among Students
■Host
Volunteers from Urban Design Lab, University of Tokyo
■Free to Participate (No fee required)
■How to Participate
1、Please fill in the form below (Name, Belonging, E-mail Address)
2、Recieve URL for ZOOM from host
3、Install ZOOM into your PC
4、Join us from the URL from 19:00
■Contact Details
Please contact us in the following form.
We will send an e-mail to the given e-mail address.
https://forms.gle/eZ7Cpv82jjPHY7iJ9